Design is art with purpose. 
Blurbox believes that the key to good design is producing something that not only looks good but achieves the purpose it was designed for – we produce art with it's work boots on.
With a decade of creative industry experience in our backpack, we create and produce innovative design resources for brands to aid them in effectively communicating and expressing who they are and what they do. 
We join forces with our clients to create memorable experiences
We partner with you, get to know you and understand your perspective on your project so that together we can achieve your goals.  To get you to your destination we use our knowledge and skills in Branding, web design, animation and illustration.
As a company Blurbox works closely with each client to provide the best creative solution for their needs. This can include design for print, a fresh look for your website or developing an animation to highlight a unique service your business provides.
Blurbox seeks to provide the best design outcome that reflects the clients needs, the character of their company and the anticipation of the audience they are trying to reach. 
LAURA CROSSETT – FOUNDER & DESIGNER
A discerning creative with intuitive design skills
Blurbox Media and Design is based in Northern Ireland and is owned and operated by designer Laura Crossett, who has been working in the creative industry since establishing her freelance graphic design company in 2011.  Having previously attained an MDes in Design and Communication from Ulster University, she has continued her journey in this 'wild and wonderful land of creativity' and as a result has an extensive portfolio of work across graphic design, web design and animation.  Her strategy for producing unique and engaging work can be understood through her simply stated process of 'Imagine, Design, Create.' 
For Laura, the beginning of any project starts in the imagination.  The imagination is where the first crazy thoughts burst free and you can ask all of your 'what if' questions and build your cloud castles in the sky.  From this place Laura likes to explore the possibilities of what the project could be and uses the design brief as a way to direct her thoughts into creative steps that put pencil to paper.  
A key step in producing any of her work is the sketching stage.  This is true whether it is for brand design, website layout, animation or illustration.  The discoveries she makes here in the shapes and lines that are creatively (and often messily) thrown unto the page, can be the key to discovering that unique aspect which helps bring the project to life. The following step involves delving into this rough sketch world to outline edges and refine the design so as to transform the initial sketch work into its true and final shape.  At the end of this artistic adventure an imaginatively designed piece of work has been created.
"I use my creative flair to make effective designs and this can involve combining a variety of methods including digital techniques, good ole pencil and paper and coffee infused enthusiasm."
Brands we've worked with along the way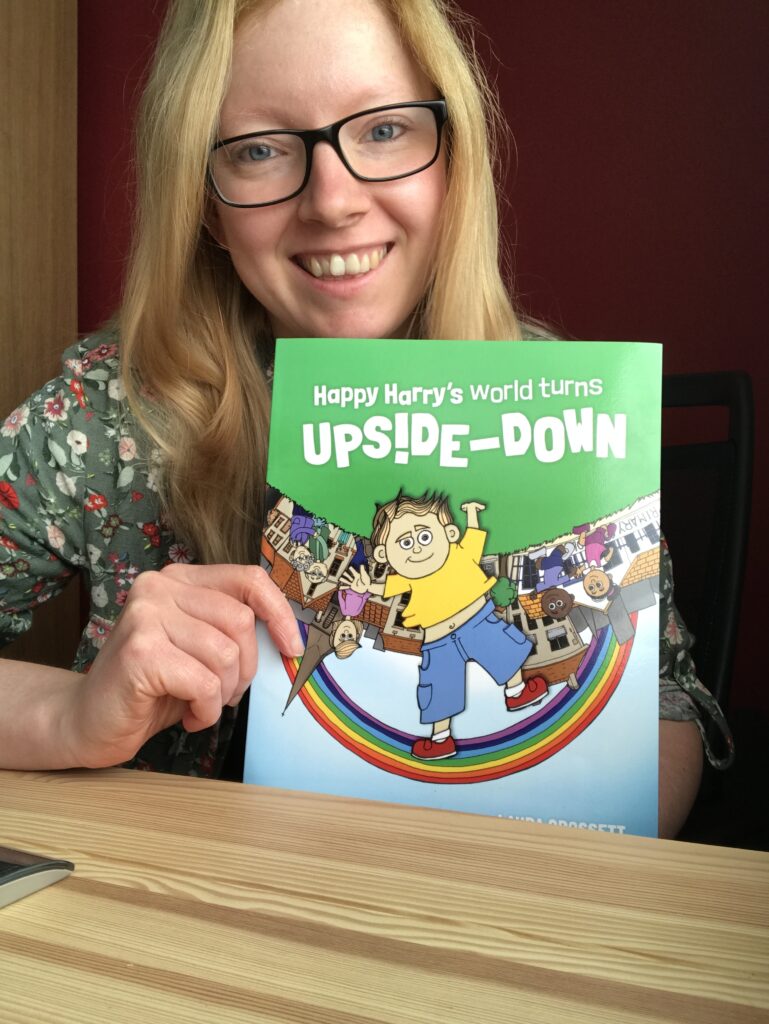 Illustration for visual storytelling
The beginning of each piece of work begins in the imagination
Laura's preferred creative weapon for illustration is pen and ink which she uses to create exuberant and lively characters, while frequently using humour to connect and communicate to the viewer.  This inspired idea is borrowed from one of her earliest influences, Martin Brown the illustrator of 'Horrible Histories'.  Her fondness for this book series is reflected in her continued love of history, myths, legends and folklore.  As an avid fan of all forms of visual storytelling she is particularly adept at creating unique and iconic characters and particularly enjoys adding hidden details and features into her images that enhance the readers experience of the story. All of these creative techniques and influences can be experienced in her first published piece of illustration for the Children's book 'Happy Harry's World turns Upside Down'.
Laura is a member of the Association of Illustrators (AOI).